Just a quick word about the site and images. I do not have my e-commerce capabilities set up yet. But if you have any questions about sizes or pricing, please contact me via the contact form.
All of the images in the Dreamscapes and Fairytales galleries were shot on infrared film, and many of them I printed myself in the darkroom. If things go as planned, I will hopefully get back into darkroom work again someday. Until then, all of the images ordered would be a high res scan and archival digital print.
I would also like to talk a little about what the name Nightingale Photography means to me. My family name on my father's side was Solowejtchik (also sometimes spelled Soloveitchik) which means 'little nightingale' in Russian. It was shortened to Solow when they immigrated. This branch of the family hailed mostly from Russia and Poland. Many were lost in that terrible dark period of history whose name is too ugly for me even to want to say here. Humankind can be very cruel and destructive and there seem to be infinite reminders throughout history, and going on today that can make it very hard to be an observant, compassionate being on this earth. I get overwhelmed often, looking at what we do to each other and to our jewel of a home. With all this ugliness in the world, I feel I often use my photography almost as an escape, and a reason to search out the beauty and peace that can easily be overlooked. We are also surrounded by an infinite number of these things; sights that nourish the soul, that take your breath away, or make you remember what's really important. And I wish I could hold onto the feeling. At least I can do my best to try to capture this sliver of time and space with my camera. I hope my photographs begin to convey these feelings and hopefully anyone who sees my body of work is reminded that there is both dark and light in our universe. If people would seek out and revel in the beauty that's all around us, and in each other, maybe there wouldn't be so many things that are so hard to look at. But even if that day never comes, there will always be art, to help us make sense of it all.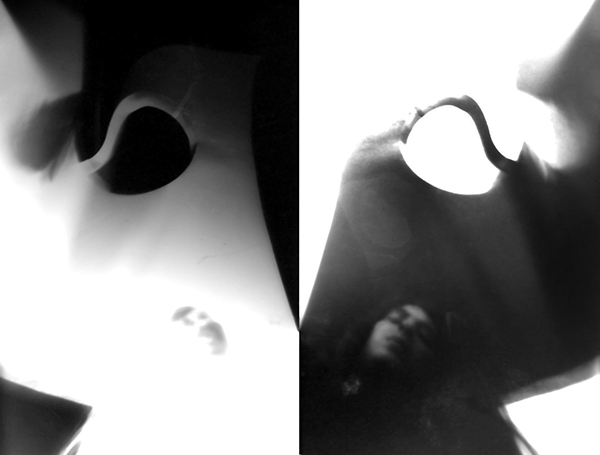 The image above was captured with a pinhole camera I made myself during my first semester of photography courses. I put it on the ground, and trying to stay very still, held it at an angle for several seconds pointed upwards towards a sculpture behind the fine arts building. When I developed the negative image on the left, I dismissed the 'smudge' as just that, perhaps a careless thumbprint. But as I watched in the dim red light while the positive side floated in its chemical bath, I saw my face slowly come into view. It was my first self portrait, my first photographic happy accident, and just one of the many moments of magic that photography has given to me. I switched my major from biochemistry to photography shortly thereafter, and have not looked back. Ok, maybe I glanced back once or twice ;) But there will be no turning back…
– Amber Solow